Bengal girl rewrites school's score in Kerala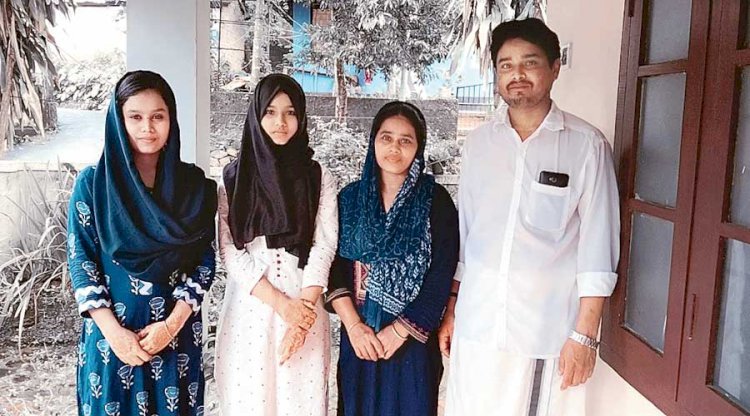 Rukshat (second from left) with her elder sister Najiya Khatun (extreme left), mother Jhuma Bibi and father Rofik Sheikh.



WHEN her mother told 16-year-old Rukshat Khatun on Saturday morning that Malayalam film star Dileep wanted to talk to her, the daughter of a domestic worker had to "pinch myself".
Many in Kerala seem equally surprised — not so much at Dileep's gesture but at Rukshat's feat that had impressed the actor so deeply.
Rukshat, a Bengali girl from Murshidabad whose parents shifted to Kerala 12 years ago, has topped her school by scoring an A-plus in every subject in her Class X board exams — which she wrote in Malayalam. Never before had any student of the NGO Quarters Government Higher Secondary School, Kozhikode, achieved this.
Over the past week since the results were declared and some web media outlets highlighted her achievement, Rukshat and her parents have received a flood of congratulatory calls.
But on Saturday morning, her mother Jhuma Bibi, who works as a domestic hand, couldn't believe her ears when heard the caller's name.
"My mum ran to me and put us on a WhatsApp video call with my favourite actor. He congratulated me and promised to come and visit us when he is in Kozhikode the next time," Rukshat told The Telegraph in fluent Malayalam. "My parents, my sister and I spoke with Dileep Sir for about 10 minutes. Even now I'm pinching myself to make sure it was not a dream."
Learning a new language so different from Bengali may have been a challenge, but Rukshat is thankful that father Rofik Sheikh, who works at a metal fabrication unit in Kozhikode, made the shift to Kerala in search of livelihood. She believes she owes a debt to the southern state.
"People are very poor in my village (in Murshidabad), so we don't get to help each other like they do here in Kerala. Had I been there, both of us (sisters) would have been married by now," she said.
"But in Kerala we got a chance to study and achieve something in life."
As for picking up Malayalam, "it was very difficult for me and my elder sister but our schoolteachers devoted extra time and attention to us".
Rukshat and sister Najiya speak fluent Bengali, too, since they and their parents talk among themselves in their mother tongue.
"I can speak and read Bengali very well but struggle to write in the language. But I shall learn to write Bengali since it's my mother tongue and part of my culture," she said.
Rukshat said reading Anandabazar Patrika on her father's mobile phone "almost every day" had helped improve her Bengali.
Although she wants to complete her higher secondary schooling in Kozhikode, Rukshat is open to seeking higher education in Bengal.
"I'm proud of my state, which has given birth to legends like Rabindranath Tagore. Once I'm old enough, I'm ready to move to Bengal for higher studies or even employment," she said.
Rukshat plans to enrol in the commerce stream and later do BCom and get a job with the government or a commercial bank.
Najiya, who too did well in her Class X boards and is now waiting for her higher secondary results, wants to graduate in science.
Rukshat thanked her parents for roughing it out at a place hundreds of kilometres from home to ensure their two daughters had a good education.
"I could study only up to Class VII while my wife studied till Class X," Rofik said. "So we are doing our best to ensure our daughters study as much as they can since they have a good opportunity in Kerala."
Overall, 121,318 students scored an A-plus in every subject this year, up from 41,906 last year, in Kerala where physical exams were held even amid the pandemic. These students scored between 90 and 100 per cent in all subjects. - The Telegrpah online