Martyr's wife joins Army; 'best mother in the world', says daughter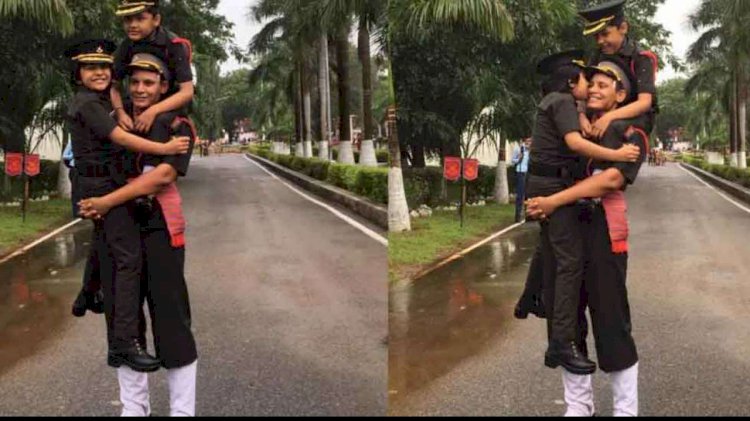 "KADAM kadam badhaye ja, khushi ke geet gaye jaa. Ye zindagi hai quam ki, tu quam pe lootaye ja"(March-march on forward, singing songs of happiness as you go. This life belongs to our motherland, lay it down for the motherland), 11-year-old Lavanya Nainwal sang as her mother, Jyoti Nainwal, wife of Indian Army Major Late Deepak Nainwal, was commissioned as a Lieutenant-rank officer in the Army.
Lavanya, daughter of an Indian Army Major who made the supreme sacrifice for the country fighting terrorists in Jammu and Kashmir, expressed that her mother is the best one in the world.
"I'm feeling very proud of my Mamma, she always used to say that she will become an Army officer and today she has fulfilled her dream… She is the best mother in the world, I love her very much", a jubilant Lavanya told Zee Media as her mother joined the Army on Saturday (November 20) after completing a gruelling 11-month training programme at Chennai Officers Training Academy.
Dressed in Army uniforms, Lavanya and her seven-year-old brother Retansh were very excited about their mother's feat.
"One day I will make her (mum) more proud than I am of her. I will become an army doctor… First, I wanted to become a doctor, but after my father's demise, my mother and I decided that I will become an army doctor," Lavanya said confidently.
153 Indian cadets (124 men and 29 women) were commissioned into the Army as Lieutenant-rank officers, while 25 personnel (16 men and 19 women) from countries such as Afghanistan, Maldives and Bhutan, also competed this course at the Army OTA.
As they were getting commissioned, the Officers sang along as the band played the iconic "Kadam Kadam", which was the regimental quick march of the Indian National Army (INA), which was led by freedom fighter Netaji Subhash Chandra Bose, in pre-Independence India.
The Passing out Parade, at the famed Major Parameswaran Drill Square, was reviewed by the Vice Chief of Army Staff, Lt Gen CP Mohanty, who urged the young Officers to live fearlessly and walk with their heads held high.