Modi opens Chess Olympiad in Chennai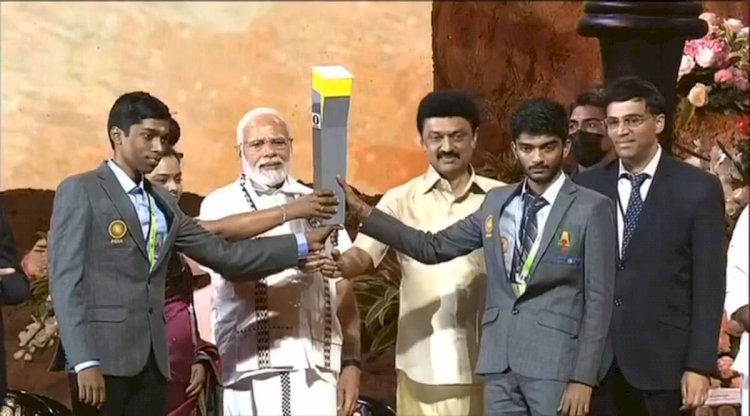 A GALA opening ceremony of the 44th FIDE Chess Olympiad took place at the Nehru Indoor Stadium in Chennai on July 28, 2022. The international chess event was inaugurated by Prime Minister Narendra Modi, in the presence of Tamil Nadu Chief Minister M.K. Stalin, reports The Hindu.
The world's biggest team chess championship, featuring players from 187 countries, takes place at Hotel Four Points by Sheraton, Mamallapuram, starting July 29 and is to conclude on August 10.
The Olympiad is being held in India for the first time ever, after being moved out of Moscow following the Russia-Ukraine crisis.
Prime Minister Narendra Modi who declared open the 44th FIDE Chess Olympiad said that in a short period of time, the organisers had made outstanding arrangements.
The grand inaugural was also attended by the Union Minister of Sports and Youth Affairs Anurag Thakur, Union Minister of State for Information and Broadcasting L. Murugan and Tamil Nadu Governor R.N. Ravi
Tamil Nadu Governor R N Ravi, Chief Minister M K Stalin, Union Ministers Anurag Thakur and L Murugan among others were present during the glittering opening ceremony.
Modi said this is the first time the Chess Olympiad is being held in the place of origin of chess, India. It is coming to Asia for the first time in 3 decades. He added: "Tamil Nadu has a strong historical connection with chess. This is why it is a chess powerhouse of India."